PICTURES TELL MORE THAN WORDS
Since 2010, when we officially started, many people, from 7 to 77 years old, have gone through our adventures. We are fulfilled when you give us your trust, and when we see your smiles. Behind us, there are many kilometers we hiked, rowed and climbed... And we plan to go further, along with you!
WHAT OTHERS HAVE SAID ABOUT US
Rishabh Garg / Prezi Company
"I and my colleagues went to Kamena Gora and rafting with Explore Serbia, and it was amazing. From the initial communication to the end of the trip, Tanja and Explore Serbia were really helpful with everything. with them we felt like traveling with a bunch of friends across Serbia, living with locals, eating traditional Serbian food and much more without worrying about anything. I definitely look forward to exploring more of Serbia with you guys and wish you the best for everything. "
Jelica Jankovic/Telenor bank
"We saw so beautiful landscapes of Serbia. The whole experience was contributed by a cheerful company and a good organization. When you only expect a trip, and you get something unexpected - it's impossible NOT TO WANT AGAIN!"
Veljko Petrovic/Transcom World Wide Company
The organization was quite good, I saw places I even didn't know that exist. The entire experience for me was the true sense of meaning EXPLORE SERBIA. Next time put a little bit more accent on us gastro-tourists... Everything else was beyond expectations. "
Aleksandra Milakovic Drobac
Our family have really enjoyed these two days. I hope that we will gather again soon on some other trip to get know the charms of Serbia. Thank you for this wonderful "exploring of Serbia."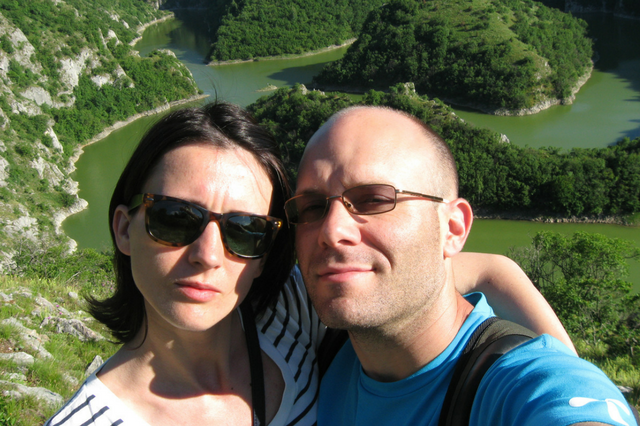 Jelena and Milos Spasojevic
Ready for the fact that we are not going to comfort of 4* hotel, that our accommodation will be a small shepherd's house in nature, in just two days we experienced a lot. We got know the village Kamena Gora, we perform rafting on the Lim River, eat in an authentic traditional atmosphere of a Serbian village and visited the Uvac Lake. We went back to our home with the subjective feeling of a much longer stay. We spent time quality, outside the city bustle of an ordinary weekend.
Explore Serbia and this time organized everything at an extremely correct level and recommended itself for further occasions."
Stefan Misljenovic
"It was awesome at Stara planina. I can not wait for new tours, it was wonderful. I finally found people who love nature and adventure."
Ivana Stevanovski / Energoprojekt
"Thanks for the unforgettable adventures, for beautiful panoramas and views from crazy perspectives!"
Ana Lukic
If you want to explore Serbia in an entirely different way, to engage in interesting and unusual adventures, then choose EXPLORE SERBIA. Different tours and destinations, excellent organization and perhaps the most important thing are great socializing. See you soon in some new unusual adventures.:-)"
N1, TV show "Unexplored"
The tour Kamena Gora, rafting on the river Lim, Uvac canyon
Laguna, radio-show "Out of reach"
Presentation of the organization
The magazine "Beauty and health"
About the tour mountain biking in National Park Tara
Web portal ekapija
The article about hiking tourism in Serbia
Website of the municipality Zemun
About the project and tours for for the elderly population of the municipality Zemun
Healthy and real
Article "From work in the office to the most beautiful landscapes"