Team building activities for employees improve the atmosphere among colleagues and strengthen team spirit. The fun activities you participate in allow you to see your colleagues in a different light.
Through a series of planned team events that are fun and motivational, teams build communication skills, planning, troubleshooting, and conflict.
What kind of team bindings are best for employees?
The most successful, unforgettable, team-building events are those where employees do not feel like a day in the office.
Conducting a shared time, sharing experiences or working toward a common goal allows for connectivity to happen more efficiently.
Research shows that happiness and learning are closely linked. Trying out new things with colleagues can create good vibrations among employees, which in turn benefits the business itself. Choosing something unique and out of the comfort zone can encourage colleagues to join in new ways.
When you decide to organize team building for colleagues, questions are asked: where are we going? what are we going to do?
Whether it's a classic tourist trip, outdoor or indoor activities, we will organize team building according to your requirements.
Here are 10 ideas for those bilding in Serbia that are fun
1) Row kayaks with colleagues on the Drina, Uvac, Zapadna Morava, Danube, Djerdap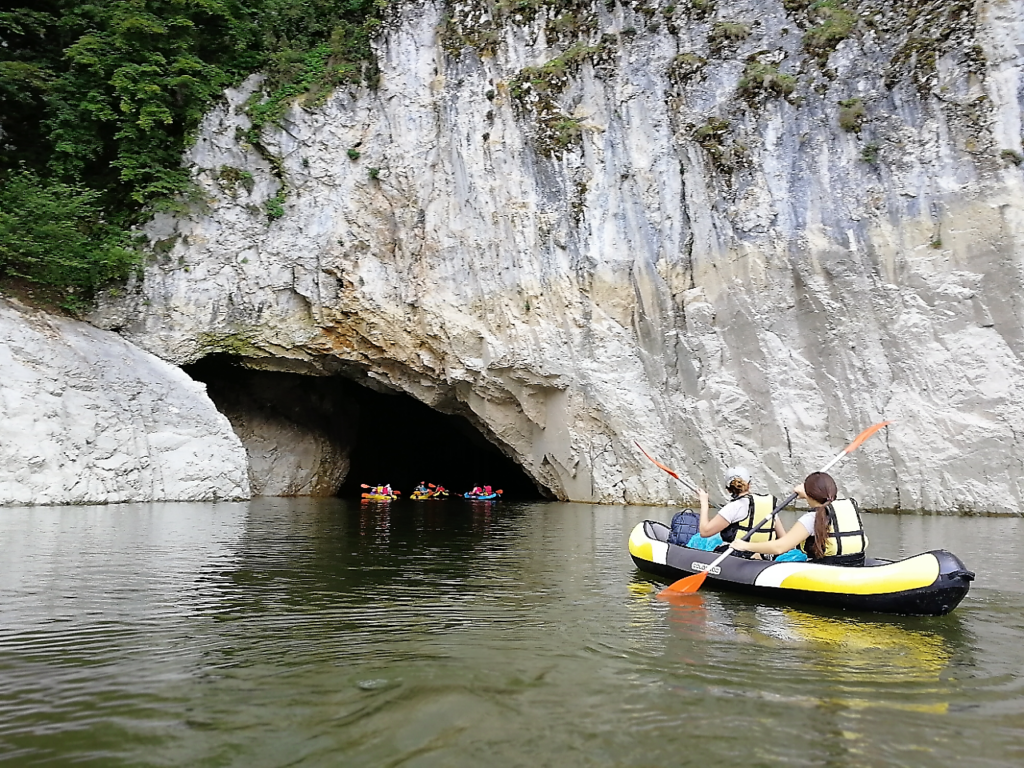 Kayak tours are one of the funniest where you are at the same time relaxed on the water, having fun with colleagues and going through the most beautiful parts of river flows or lakes.
They are performed in stable recreational kayaks and no previous rowing experience is required. There are two persons sitting in kayaks, and the groups are accompanied by professional instructors. If you choose kayaking on Uvac, the excursion can be completed with hiking to the attractive gazebo with a view of meandre Uvca. If your choice is kayaking on the Drina, we recommend that you visit the national park Tara or Drvengrad.
2) Ride a bike through the forest areas of Fruška Gora, Tara, Zlatibor, Zlatar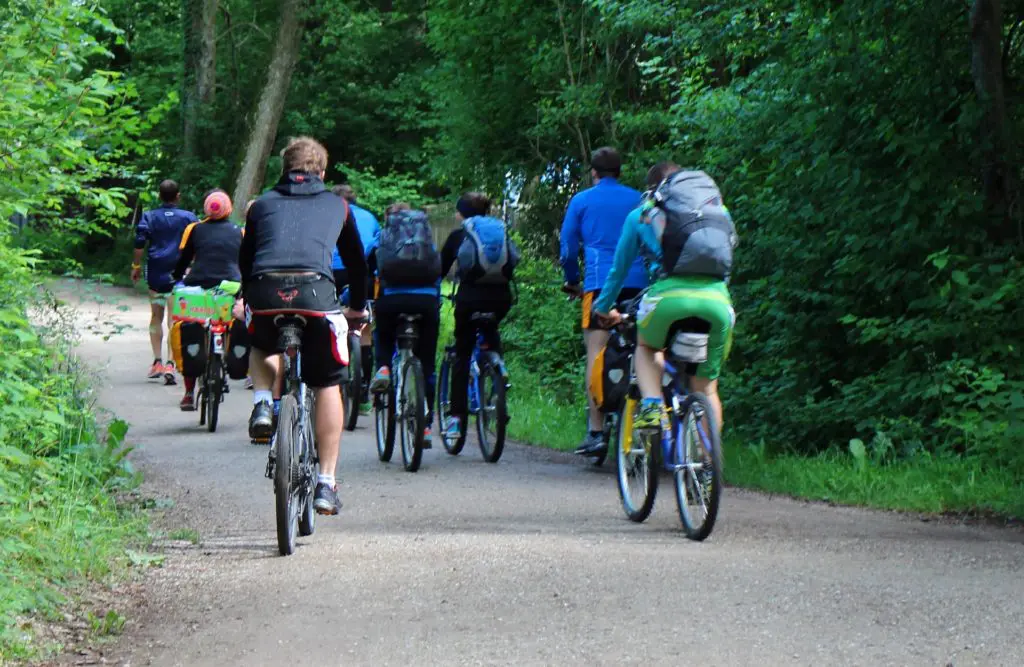 When was the last time you were riding a bike? If your answer: "Already in elementary school," it's an ideal opportunity to remind yourself of driving with colleagues. The mentioned mountains are just some of the destinations where you can ride a bicycle with colleagues. If you choose Fruška Gora, the team building can be completed by visiting one of the wineries, lunch in one of the ethnic restaurants and the countryside. If you decide to riding a bicycle on Tara, we will leave time for pleasure in nature and visit one of the most attractive gazebos in Serbia, such as the Banjska stena.
3) Hiking through attractive natural areas that provide unforgettable views
Serbia is ideal for hiking tours. Walking is one of the oldest forms of exercise and still the best modern exercise.
The destinations we recommend are Kablar, Tara, Djerdap, Divčibare, Homolje, Fruška gora, Povlen, Kosmaj, Bukulja, Rajac, the Gradac river gorge, Deliblatska peščara and numerous others.
Depending on your requirements and the physical fitness of the group, walking tours can be a light walk or may be more demanding and take a couple of hours.
4) Overcome different obstacles through orienteering and different logical tasks
We recommend different team games where from the start, through the set control points, you reach the goal.
At all times, competitors must know where they are located and on the basis of introductory lectures and experience in reading the map, they should make decisions on which direction they will move in order to quickly go through the whole track and find all checkpoints.
Tasks require logical thinking and engagement of the entire team.
If your team is in Belgrade and you want an urban adventure, as a great team building is an exploratory game Belgrade – a crossroads of civilisations.
The game consists of mysterious directions and puzzles. It is played in teams of 1 to 5 people and lasts about 2 hours. The game can be played by up to 10 different teams at the same time and depending on the speed with which the entire route is covered, the winner also depends. The route goes from the St. Sava Temple to Knez Mihailova Street and shows the combination of old and new.
About the game itself, which is something similar to outdoor escape room, you can find out in the article City discovery games - explore Belgrade in a fun way
5) Have fun rafting through the river rapids of Ibar or Lim
Rafting is one of the leading fun recreational activities on the water. It takes place in stable boats with a capacity of 6 to 12 people. You will be rowing along with your colleagues, while control of the boat will have a professional skipper.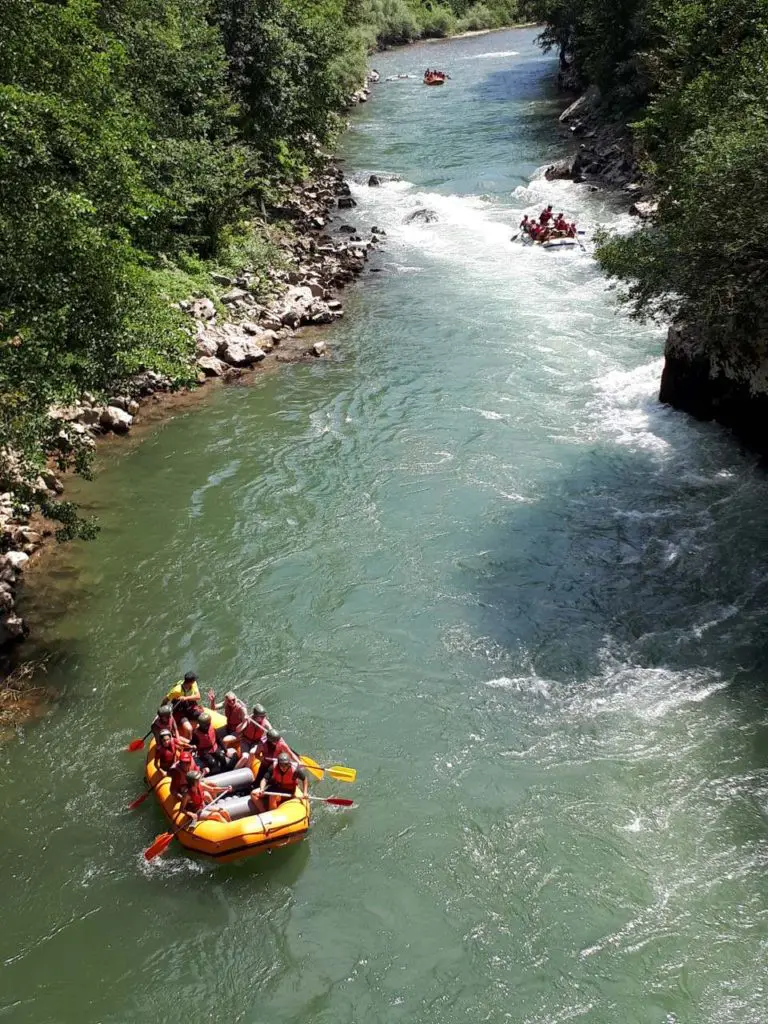 6) Try climbing and learn the vertical descent technique down the wall
Climbing on the rocks is a challenge and provokes excitement and joy among the participants. It can be performed on the walls of the gorge, where, accompanied by professional instructors, a rope-lowering technique is being tried down the wall. This technique is known in the world of alpinism as an abysmal technique.
The ideal climbing destinations are Ovcar-Kablar Gorge, Gornjak, Jelašnička gorge.
7) Experience the thrill of a via ferrata – a safe steel ladder climb
Via Ferrata or steel roads, are paths along the rocks with steel ladders carved into them for climbing. The "Steel Road" as it is also called, is intended for all those who want to climb rocks, but do not have mountaineering experience. It is actually the first step towards alpinism because the feeling is similar, you are on a rock, your feet are on a ladder, but you are also secured to the steel cable that usually follows the via ferrata.
Climbing is completely safe and you get all the necessary equipment from us (climbing harness, helmet, via ferrata set).
We recommend for beginners via ferrata on Kablar. The adventure begins in Ovčar Banja and then you follow the hiking trail for about 1 hour to the Kablar massif, where the starting point of the via ferrata is located that leads to the Turčinovac cave. The via ferrata is 45 meters high, and its total length is 60 meters due to its winding nature.
8) Test your archery skills
Archery is one of the most popular team bilding activities. This ancient skill is performed outdoors, under the watchful eye of our professional instructors. The most modern equipment is used. With a little exercise, your team will hit right in the target! 🙂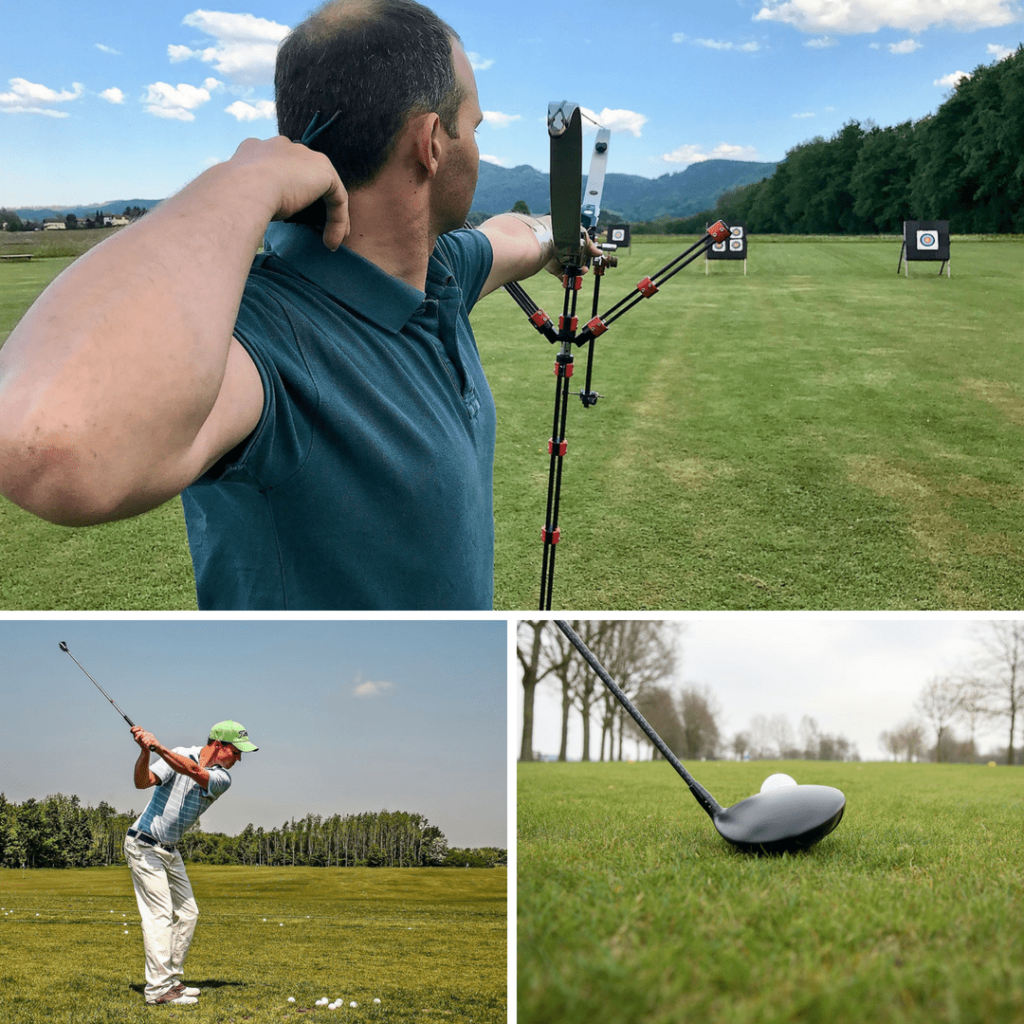 9) Play golf
Golfing is one of the modern activities for the performance of the team building in Serbia. Through the introductory part of the training, held by professional trainers, a mini tournament is held with the conquest of the winner.
Golfing is completed with a cocktail after the tournament.
10) Develop the strategy within the team through a paintball game
Paintball is a game in which players compete to eliminate opponents by striking them with capsules that contain color from a gas-powered device and are called a paintball marker. The paintball space can be open or indoor. The rules for playing paintball are different, but they can include elimination, defense or attack at a specific point or area, or searching for hidden objects in the playing area.
Paintball can be low impact, where light markers and smaller paintballs are used that travel at a slower speed allowing the player to feel less impact.
It presents a game that is fun for all participants. And a game where strength and speed aren't nearly as important as strategy and communication.
Location? Accommodation? Restaurants? Wineries?
Do you need a hotel that offers the possibility of organizing presentations for your internal meetings?
If you go to a multi-day team building, in addition to additional facilities, such as welness and spa, there are restaurants that have international and traditional cuisine.
In addition to the activities, the content of your team building can be completed with:
visits to cultural and historical monuments accompanied by a tourist guide
visiting wineries with wine tasting
Team building is extremely important for employees. Here are the list of the top 5 reasons that employees receive through our team building programs:
1) Networking, socializing and better acquaintance
Socializing and making friends at the workplace is one of the best ways to increase productivity in the office. Not only improves morale in the office, it also allows solving everyday problems at the workplace.
2) Team work and team performance enhancement
Team building activities also improve work on projects that require teamwork. After joint activities outside the work environment, employees better notice the strengths, weaknesses and interests of their colleagues. This understanding helps them in the future to work together better on the progress that is vital to the company.
3) Celebration, team spirit, fun and motivation
After some sports team wins a great championship, team members celebrate and have fun. This motivates them for new victories. This example shows that the celebration, cheering and entertainment that comes with each of these team building events can motivate employees to be more productive at work.
 4) Cooperation, fostering innovation and creativity
People tend to be more imaginative when they are close to people they are comfortable with. So, entertainment events in team building not only bring people closer, but also lead to more successful and creative ideas at the workplace. Also, everyday workplace cooperation is the key to successful business.
5) Communication and working together
Communication and better collaborative work is the main reason why managers choose team building for their employees. Everyone wants a friendly working environment, where it is nice for colleagues to talk to each other. One of the main reasons for this building is actually getting better communication in the team. A satisfactory team building will surely mean a more comfortable, more successful work environment for every company, big or small.
Team building is not a boom - it's an investment
Team building is always a good investment. You do not have to go to a great place, a set of trips and experiences, but do not even save.
Be ready to make a real investment.
Keep the positive energy from the building and take it to the office
Organizing team building for employees should not be a one-time activity - done and forgotten. The key is to find ways to keep employee engagement. Creating opportunities for colleagues to connect and communicate in meaningful ways, beyond regular meetings or presentations, is a challenge.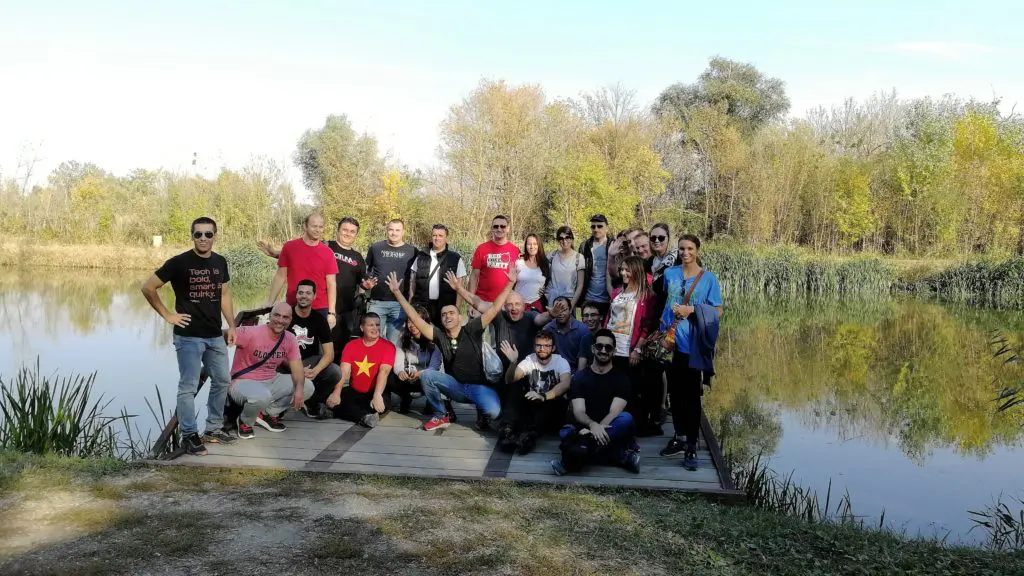 How do you know that you had a real team building?
If there was laughter, feeling of excitement and achievement, and perhaps a few Facebook and Instagram moments, you are definitely on the right path!
If you liked any of our suggestions, feel free to contact us.