Western Serbia consists of idyllic tourist sites, mountains and rural areas where tradition and heritage are very important. The whole area is perfect for nature lovers where is possible to do a lot of different activities and have a great active holiday.
The central identity of the region is: Discovering life in tradition and nature.
In the region of Western Serbia are important natural and cultural resources. Rural tourism is very well developed. Apart from spending time in the nice surroundings of villages, there are possibilities for hiking, mountain biking, kayaking, rafting, and canyoning.
1) National Park Tara
Mountain Tara is one of the national parks in Serbia, which occupies the largest part of the mountain known by indigenous conifer forests. It is one of the most favorite destinations for nature lovers and for active holidays in Western Serbia.
This mountainous region, including Mount Tara (1544 m) and Mount Zvijezda (Star Mountain – 1673 m), and the Drina Canyon, is one of the most beautiful national parks in Europe. It bounds with river gorges, gentle slopes, steep rocky inclines, as well as waterfalls and caves. The area is thickly covered with both evergreen and deciduous forests. A rare sort of pine, named Pancic Spruce after its famous discoverer (Josif Pančić), may be seen there. Its fauna is also diverse: brown bears and mountain goats, grey eagles, griffon vultures, as well as hundreds of other varieties of birds are not unusual in the region. Mount Tara is both summer and a winter resort, with Kaludjerske Bare and Mitrovac as its two main centers of interest.
The Drina canyon
The Drina Canyon is the third deepest in the world, after the Colorado Canyon (USA) and the Tara canyon (Montenegro). It is the composite valley type, at the border of Serbia and Bosnia and Herzegovina.
The deepest and most impressive part of the canyon is built by the Drina River, climbing the slopes of the Mount Zvijezda, where in some parts the canyon is deep and up to a thousand meters. The canyon is embedded in massive and rarely layered middle-eastern limestone. The canyon sides are very steep with numerous ponds and scum, covered with forest and shrub vegetation, but often vertical, bare rocky surfaces occur.
Things to do in the National Park Tara:
The National Park Tara can be explored in different ways. There are very attractive hiking trails as well as mountain biking routes. A very attractive MTB route is High Tara with a visit to Zaovine Lake. You can visit wonderful viewpoints of the Drina Canyon. The most known are Banjska Stena, Osluša, Bilješka Stena, and Crnjeskovo.
During hot summer days, you can spend time on the Drina River. We recommend kayaking tours that start from Perucac Dam to the famous "Little House on the rock". If you like to feel more adrenaline, there are great canyoning tours you can try. The easier one is Beli Rzav canyon and the more demanding is Rača Canyon.
If you like to relax on this river of outstanding beauty, we recommend a boat cruising tour through the Drina Canyon.
2) The Ovčar-Kablar Gorge
The gorge through which the Zapadna Morava flows is rich in the beautiful scenery.
It is located between the towns of Čačak and Požega.  It is distinguished by the steep, high limestone sides with several caves. The gorge is carved between the 985 meters high mountain of Ovčar on the south and 889 meters high Kablar on the north, thus gaining its name. The river meanders through the gorge for 15 kilometers. The Ovcar-Kablar Gorge is one of the favorite destinations in Western Serbia for an active holiday.
This is a known bird-life area, characterized by a golden eagle, honey buzzard, corncrake, rock thrush, kingfisher, etc.
Ovčar Spa and famous monasteries are situated here.
A group of monasteries (only 10 remained), commonly named "Small Serbian Holly Hill", were built mostly in the 16th and 17th centuries. They represent a Renaissance of Raška building school the scope of the time they were built workshops for re-writing and illumination of books, icon paintings and manufacture of various religious services items were active.
Things to do in the Ovčar-Kablar Gorge
Mountains Ovčar and Kablar are a challenge for hiking and mountain biking. There are marked hiking trails with different levels of difficulty. From the viewpoint, of the top of Kablar, you can see the fascinating Western Morava meanders. There is also a rock-climbing wall in Kablar.
On the rocks of Kablar, there was built the first via ferrata in Serbia. It is 45 meters high, and its overall length is 60 meters due to its scratching. Climbing is completely safe and does not require special conditioning and exaggerated effort.
If you like more to relax, we recommend you take a kayaking or guided boat tour on Western Morava with visiting some of the monasteries.
3) Special nature reserve Uvac
Uvac is the truly unique and magnificent destination of southwestern Serbia where more and more visitors come. Untouched nature, caves, lakes, endemic plant species and the last refuge of almost extinct birds – the griffon vulture, are just some of the things you can see during a visit to this nature reserve. Uvac is an excellent destination for an active holiday in Western Serbia.
In the Uvac Canyon is a nesting griffon vulture. A species of eagle is named also "the heavenly king" because of its imposing size. They almost died out in the area two decades ago. Today there are about 500 eagles in the canyon. They nest on the steep and rocky edges of the canyon.
The role of the griffon vulture is irreplaceable in the ecosystem chain – it is exclusively fed to dead animals, which prevents the spread of infection and thus makes natural recycling.
The Uvac Canyon is known for its breach of meanders that the river cut into the limestone rocks.
The canyon valley of the river Uvac with high and steep cliffs up to 350 m represents the center of the natural reserve. Looking from the height, the impression is that nature has doubted in which direction the river should flow. Therefore, the river makes beautiful river curves.
Meanders of Uvac you can view the best by taking hiking tours to the panoramic viewpoints. There is a magnificent view of the canyon.
Things to do in the Uvac Canyon and its surroundings
The best way to explore is to take hiking tours or boat and kayaking tours. You can reach wonderful viewpoints also from the lake. If you are going for a boat ride or a kayaking tour by the Sjenica Lake, after two hours of sightseeing and visiting the Icy Cave, there is the place where you start hiking paths to viewpoints.
A great way to experience the surrounding of Uvac is via off-road terrain vehicles along the slopes of mountains Zlatar and Jadovnik.
There are mountain biking routes where you can experience this wonderful scenery. The route with a length of 36 km connects Sjenica, Zlatar, and Nova Varoš.
If you want to find out more about the Special nature reserve Uvac, you can read our article Why Uvac is the place you must visit in Serbia?
4) Zlatar
ZLATAR (Golden) is a mountain in South-Western Serbia with plenty of sunny days in a year. It represents a region of outstanding and still unexplored natural beauty.
The highest peak is Golo Brdo (1627 m). The mountain is characterized by a pleasant climate (over 280 sunny days per year), which is a mixture of Mediterranean and alpine influences, with high conifers and pastures. Zlatar is one of the mountains that surround the Pester plateau – the highest plateau in the Balkans (1150 m and an area of 63 km².)
The northern slopes mildly descend into the valley of Uvac, while on the south side, it is sharply seared with the deep ravine of the Mileševka River. This river formed a wild limestone gorge between the mountains of Zlatar and Jadovnik, whose cliffs preserved impressive, very old examples of black pine trees.
Things to do in Zlatar
Zlatar provides great possibilities for an active holiday in Western Serbia.
Zlatar and its lakes are an increasingly favorite destination for fishing.  There are outstanding hiking trails as well as mountain biking routes.
Close to Zlatar is a famous Uvac canyon. It is possible to ride a bicycle along Zlatar Lake to Uvac Canyon where you can see outstanding rugged scenery.
There is also a biking route from Zlatar to the monastery Mileševa and Prijepolje with a length of 23 km.
The whole Pester plateau is ideal for off-road adventures via terrain vehicles.
5) Mountain villages Kamena Gora and Sopotnica
If you are a fan of the nature of mountain villages, delicious traditional food, and adventurers, you should visit these two villages in South-Western Serbia. They offer a lot of different options for an active holiday in Western Serbia.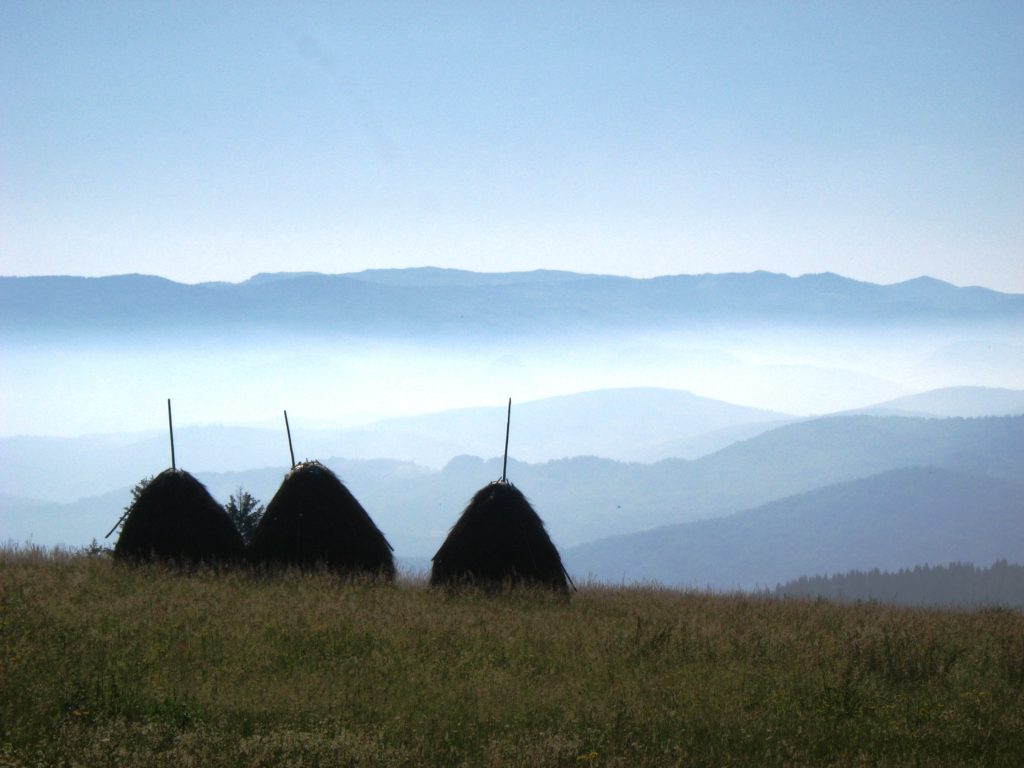 They are located at 1000 m – 1500 m of altitude and represent a true aerial spa. Around rural houses grow 100-year-old forests of spruce, fir, pine, and beech. Both villages are Naturally significant goods protected by the Serbian Government.
Kamena Gora is a small mountain village at about 1400 m, declared as a landscape of exceptional features.
It is rich in flora and fauna, conifer forests, and numerous springs.  A symbol of the village is The Old Pine which is 500 years old. It is proof of the longevity of inhabitants.
Sopotnica is a village of bubbling springs and waterfalls. Attractive waterfalls give unparalleled ornaments embedded in the ambiance of ancient village architecture made up of numerous watermills.
Sopotnica river on the mountain Jadovnik rises on over 1000 m and in its flow forms a great number of cascades and waterfalls, the highest – 20 m. Besides waterfalls, significant attractions are the forest with trees of very interesting shapes, and old water mills and rolling machines. Several households in the village offer comfortable lodgings and homemade products.
Things to do in Kamena Gora and Sopotnica
Kamena Gora and Sopotnica have wonderful sceneries for hiking. Kamena Gora is a natural rock for climbing as well as a place for paragliding. If you like activities with more adrenaline, you can go rafting on the Lim River from Kumanica to Brodarevo. If you want a more demanding hiking tour, you can go through the Mileševka Canyon, which separates the Zlatar and Jadovnik mountains. We recommend that you do not go alone, but hire a hiking guide.
The area of the Jadovnik Mountain where these two villages lie is also suitable for off-road adventures. From the Uvac canyon, rides are driven by terrain vehicles to Sopotnica. If you want to visit the Uvac canyon, which provides many different ways for its exploring, is about an hour and a half away from Kamena Gora and about an hour's drive from Sopotnica.
If you want to find out more about Kamena Gora and Sopotnica, you can read our article Kamena Gora and Sopotnica – two mountain villages of southwestern Serbia you should visit.
6) Golija-Studenica Biosphere Reserve
Golija-Studenica Biosphere Reserve is situated in southwestern Serbia and belongs to the inner zone of the Dinaric mountain system. It covers a mountainous region and includes a mosaic of different ecosystems such as forests, shrubs, and lakes. It is the first UNESCO-registered biosphere reserve in Serbia.
Mountain Golija lies between the towns of Ivanjica and Novi Pazar. The highest peak is Jankov Kamen (1,833 m). The Moravica and Studenica rivers have their headwaters at this mountain. Studenica breaches through the mountain, in its deep valley with several shorter gorges. Golija is still one of the unexplored destinations in Western Serbia for an active holiday.
The mountain is heavily forested with significant biodiversity. Beech forests are particularly represented, and some of them have the characteristics of the rainforest. The preserved natural rarity is Acer heldreichii (Heldreich's maple), synonymous with the flora of the mountain.
Golija is one of the important mountainous European ornithology reserves, with 95 registered bird species.
Things to do in Golija
Hiking and trekking as part of an active holiday have recently gained considerable popularity in this area. There are numerous marked hiking trails. The marked trails pass through picturesque landscapes, as well as cultural and historic places of interest.
Mountain biking has also become very popular. The mountain biking routes are scattered around the most beautiful part of the mountains of Golija, Javor, and Mučanj.
As well as hiking trails, mountain biking routes can be a different level of difficulty. They can be suitable for recreation, as well as for those who want more adrenaline.
One of the recreational cycling routes is Golijska Reka – Preko Brdo – Jankov Kamen – Babića Brdo – Golijska Reka. Its length is around 12 km with a height difference of 425 m.
The route passes through one of the most beautiful parts of Golija and its highest peak Jankov Kamen.
There are mountain biking routes that connect the towns Ivanjica and Sjenica (62 km) and Ivanjica and Arilje (28 km).
If you want to explore the whole area of Golija-Studenica Biosphere Reserve, we recommend you spend a few days there and visit cultural places. There is Studenica Monastery, a cultural World Heritage site, and the monasteries of Stari Ras and Sopoćani.
7) Divčibare
Divcibare is a plateau on the Maljen Mountain 110 km away from Belgrade, at an altitude of about 1000 m with a pleasant and mild climate, with several nature reserves. It represents an "air spa" with a beneficial climate impact.
The air masses from the Mediterranean clash with the air masses of the Carpathians and the Pannonian Plains, which can explain the presence of iodine in the air.
Natural reserves at Divčibare are old forests on Velika ploča, Vražji Vir on the river Crna Kamenica and the Crna Reka canyon. Especially interesting is the Skakalo waterfall on the river Manastirica.
Things to do in Divčibare
Divčibare is a very popular ski and hiking destination. It is located around 2 h from Belgrade, well accessible to urban populations who are eager of spending time in nature.
Hiking trails are well-marked and you can easily reach all peaks of the plateau. The highest peak of Maljen Mountain is Kraljev Sto 1103 m (King's Table). The legend said that it was named after the Serbian king Dusan the Great.
Our recommendation for a circular hiking tour that lasts around 6 h with breaks, with a length of 15 km is a circular tour that connects Divcibare's peaks.
There is a possibility to choose shorter or longer hiking trails. Longer hiking trails connect Divčibare with mountains Ravna Gora and Rajac.
Mountain Maljen belongs to the Valjevo mountains. It is ideal for off-road vehicle rides, quads ride, and mountain biking.
There are marked mountain biking routes. One of them connects Divčibare with the towns Kosjerić and Užice. The route provides an incredible view of the countryside. The length is 60 km with a total altitude difference of around 700 m. There are no technically demanding sections and the substrate is asphalt.
8) Zlatibor
ZLATIBOR (Golden Pine) is a mountain in Western Serbia located 230 km from Belgrade. It has the appearance of a gunshot and a gently rolling plateau, with its highest peak Tornik (1496 m). It is built from serpentine, with many meadows, pastures, and forests. The Zlatibor Plateau lies some 1.000 m above sea level, and it is known by its golden pines, from which the mountain derives its name.
The mountain is one of the most important mountain tourist resorts in Serbia. Palisad is the main tourist place of the mountain with the lake.
In this area, the continental air currents meet the Mediterranean, creating a special, beneficent mixture of clean and dry air, with low atmospheric pressure and numerous sunny days. The area invigorates healthy and alleviates upper respiratory, lung, cardiovascular, and thyroid gland problems.
The tradition of tourism at Zlatibor began in the 19th century when Prince Miloš Obrenović had been spending his summers on the mountain. King Aleksandar Obrenović built there a fountain in 1893. The spot came to be called Kraljeve Vode (King's Waters). After WWII the name changed to Partizanske Voda (Partisan's Water) to reflect the Yugoslavian new political direction.
Things to do in Zlatibor
Zlatibor is an important ski center, well suited for cross-country skiing and biathlon. Summer on Zlatibor is perfect for hiking tours and biking tours.
Apart from short tourist walking trails from the center of Zlatibor, there are possibilities for longer hiking tours. You can take different tours, lasting half of a day or a whole day. Longer trails are not marked and we recommend guided tours, in order to better explore the area.
Mountain biking routes:
Bicycle routes are marked by tourist signaling, on the routes, there are wooden canopies and benches for cyclists, pedestrians, and mountaineers.
The Zlatibor Mountain is connected to Tara via Mokra Gora, Divcibare with the area of Uzice, Kosjeric, and Požega.
The very attractive biking tour is the one that connects Zlatibor and the National Park Tara.
The 47 km long route follows the cliff path with some mild ascents and descents. Most of the route is on dirt and macadam surfaces. This is a regional route linking Mount Zlatibor with Mount Tara but it also provides connections to Mokra Gora, Bosnia, Kremna, Užice, Kosjerić, Bajina Bašta, and other places in the area.
On half of the trail, you can stop in Sargan and visit Drvengrad (Wooden City) – Ethno village on the hill Mecavnik, built by the idea of the famous film director Emir Kusturica.
 All mentioned destinations you can find on a Google map below.